Principle of the Grands Bourgognes loyalty program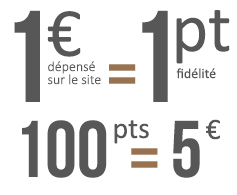 1/ Acquisition of points :
You start to capitalize loyalty points for any order placed on the site www.grandsbourgognes.com.

Scale of acquisition of points :
1€ = 1 point

For each euro spent including all taxes (excluding shipping costs), you are awarded 1 point.
You can freely convert your loyalty points.

Scale of conversion of points :
100 points at 5 euros

Your points can't be used to pay for shipping, nor in addition to a promotional code, nor during promotional periods.
ORDER WITHOUT SHIPPING COSTS
ORDER WITHOUT SHIPPING COSTS
Product A
2 x 100€
200€
Product B
1 x 250€
250€
Frais de port
0€
Total
450€
Points earned
450 Points
ORDER WITH SHIPPING COSTS
ORDER WITH SHIPPING COSTS
Product A
2 x 100€
200€
Product B
1 x 100€
100€
Frais de port
15€
Total
315€
Points earned
300 Pts (Total 315 Euros - 15 Euros port)
ORDER WITH SHIPPING & USE OF POINT
ORDER WITH SHIPPING & USE OF POINT
Product A
2 x 15€
30€
Product B
1 x 25€
25€
Frais de port
12€
Use of 500 loyalty points
25€ discount
Total
42€
Points earned
30 Pts (Total 67€ - 12€ shipping - 25€ loyalty points)